Ever try to get work done, but you're just not comfortable? The lighting is bad, it's noisy, or maybe that dang desk chair just isn't cutting it anymore. We've all been there and while this is not meant to be a sales pitch, hear me out. We simply want to show you how you can make your work space a little bit more enjoyable – by adding a little hygge to it. 
This concept, and our theme for the month, can help you bring in all the right vibes that you need in a work space. So how do you bring a "feeling" into how you work? By doing little things that make your space more "you." Whatever it is that lifts up your spirits. 
Lighting
If you're like me, natural light and windows can significantly change your mood. Sometimes hanging out by the windows in Ment is the perfect motivation for me. An entire room or skylight to soak up those rays might be just what you need. Use the light available to you to set a mood. No, I'm not talking about rose petals and romantic music (although if that is your thing, we are not against it). I'm talking about dimming those office lights or using those lamps that you have and getting your "cozy" on. Candle lovers, I know you guys are listening – this is for you too!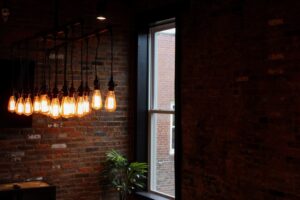 This is where I add the Disclaimer right, Hayley? *Ment is not responsible for any fires, naps or yoga sessions that may result. 
Move Around
I'm also one of those people that simply cannot always sit behind a desk. Sometimes kicking your shoes off and cuddling up on the couch or just moving out of your typical workspace can get you into a better headspace. I seriously love sitting out in our open coworking space (preferably on the couches or cushioned chairs) with my laptop and books.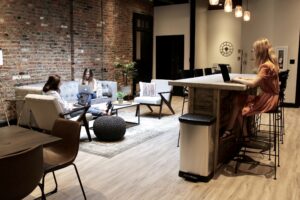 Enjoy the little things
Things like the smell of fresh roasted coffee in the morning or the smiles that greet you around the office. Sometimes we just need to take a moment to be grateful for those small things in life. When I enter the parking lot for my work days at Ment, I am forever thankful for that little parking pass that allows me to not have to worry about searching for a spot for 20 minutes! Being able to work downtown in such a beautiful building and with such great people is also uplifting for me. Our members? They love knowing that coffee will be waiting for them and that if they want to take advantage of places in the community, their member perks allow them to do that. 
Comfort Items & Decor
When practicing hygge, it's all about making a space that works for you. Bring in photos of your loved ones. Decorate your space in a way that brings you happiness. Our community partner is helping us with that this month! Maybe bring in some of the outside with plants, real or fake depending on how well of a plant mom (or dad) you are *shamefully looks away*. Essential oil lovers, we know you are already packing them around with you so embrace it! Bring in that diffuser and let the wellness scents fill your office. Cold natured people or employees of a company that simply doesn't know how to use the thermostat – do not be ashamed. Keep that blanket close to you or even that heater that you're probably already hiding under your desk.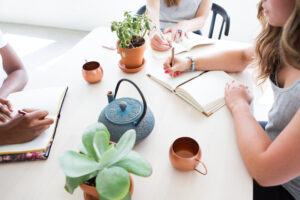 Interact
The Danish are also all about genuine relationships. Interact with your colleagues or fellow office mates. Strike up a conversation or simply give a few greetings and smiles here and there. Basically, just practicing encouragement and spreading good vibes can go along way! Our members are all unique and come from totally different backgrounds and businesses. This makes it the perfect place to get to know those within our own little "Ment community."
Focus on yourself
Don't forget to take some time for yourself. Practice self-care and make it a part of your daily routine if you're not already. Again, it's all about the little things: take some time for you, step outside on your break, reflect on your day or your goals or make yourself a work playlist. I have been really into coffee shop music and just chill sounds that help me to focus without causing distraction. 
Remember: comfort = productivity.
According to the Happiness Research Institute,"…78% of Danish workers value a safe, cosy and casual atmosphere in the office." 
Maybe we are not so different here in the U.S. We just didn't know there was a term for it! So grab those blankets, candles, coffee mugs or anything else that brings you joy and pack it in with you. Get comfortable and get it done! If you need a little extra inspiration, we are only an elevator ride up and a day pass away!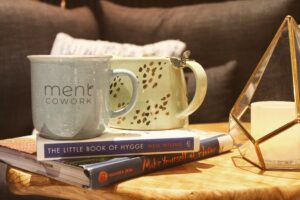 For more information and tips to keep "hygging" on, check out some of our other articles on work-life balance, minimalism and loving where you work.
https://mentcowork.com/wp-content/uploads/2020/02/TheEverygirl_Style_ParsonsDesk-11.jpg
576
890
Hannah Vanover
https://mentcowork.com/wp-content/uploads/2019/05/ment_logo.png
Hannah Vanover
2020-02-11 13:10:39
2020-02-13 19:25:51
How to "Hygge" It