Written by Pare and Flourish Co-Founders, Katie Butler and Skylar Wooden
When asked what our "-ment" word was, it was obvious. Empowerment.
From the start of Pare and Flourish, we had one mission in mind: to empower others. Through articles. Through close-knit conversations. Through panel discussions.  
And though it's taken different forms, our mission has always been the same.
Carrying that vision forward, we've chosen Ment Cowork as the location for our second Flourishing Females event on June 1st. [This event includes a panel discussion about finding your niche, a workshop on grabbing your audience's attention, and lots of food, drinks, and networking.]
Ment is leading the charge for coworking in Bowling Green, bringing with them a culture of uplifting collaboration—perfect for a day of learning, growing, and connecting with local female entrepreneurs. Perfect for empowerment.
>> Interested in checking it out? Information and tickets for the event are available here.
In honor of this event being at Ment, we've reflected on the ways we've set out to empower women in our community, and what empowerment means to us.
Empowering Our Readers
Whether it gives you the power to network without fear or to ask for that raise, a blog article speaks to a part in us that needs development. Parts of us that we know are there, but need a push to be put into motion.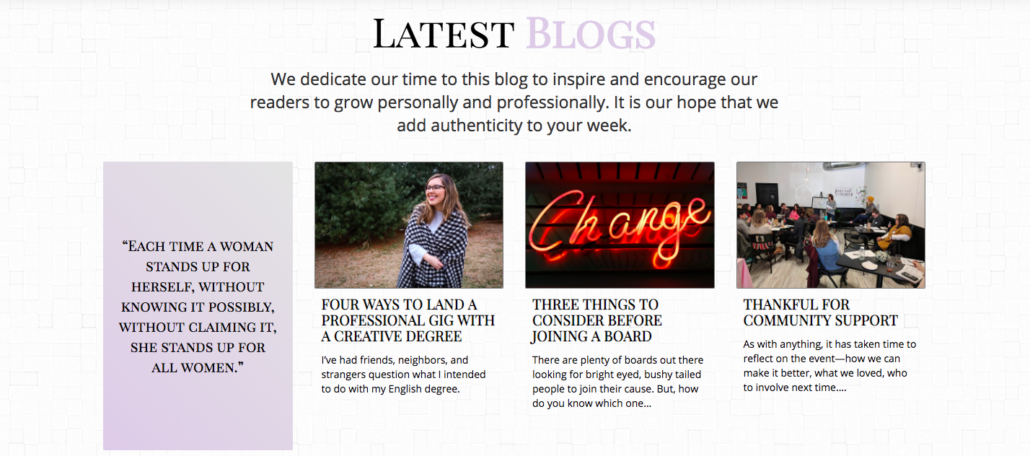 That's how we started—writing blog articles on topics we struggled through and learned from, in hopes of empowering someone else to jump the hurdle. We shared our advice in the most genuine, authentic way we could.
Here's a snippet from our very first post, setting the tone for Pare and Flourish:
"It is a personal mission of ours not to romanticize our lives, as is so often done in the age of social media.
So here we have a safe space. A space for the real, the authentic, and the genuine.
In this blog, you can expect first-hand accounts of our daily life struggles, how we've learned (so far) to become happy with the choices that we've made, and pieces of advice that we would like to have learned earlier on. You'll find that we've made mistakes. You will also find what we've made of those mistakes. We hope that you apply our retrospection to your life, and come out ahead."
Read the rest of this article here.
Empowering Our Peers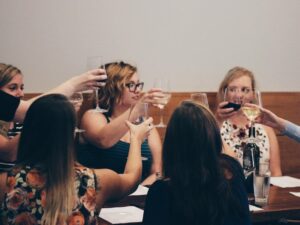 When blog articles didn't feel like enough—like we weren't reaching enough people, like we weren't making a big enough impact—we transitioned to events.
Our first foray into events was the Flourish Roundtable. Roundtables are small group discussions, promoting authenticity and empowerment.
We wanted more than screen engagement. We wanted real, deep connection based on topics that are relevant to all of our lives. To provide a place where women could look around and see that there are other women feeling similar emotions, having similar thoughts.
Roundtables are a place for thoughtful engagement, advice, support, and all the good feels.
Recounting a Roundtable experience, this is what we wrote:
"If you've ever wanted to be a part of something bigger than yourself, something that makes you feel connected to someone based on more than your common interests, but on your common beliefs and feelings, this is the place for you. A Flourish Roundtable event creates that connection. And we are honored to facilitate that connection."
Read the rest of this article here.
Empowering Our Flourishing Females
When Roundtables weren't enough, we widened our audience. Flourishing Females Panel + Workshops became a way to do more than gather.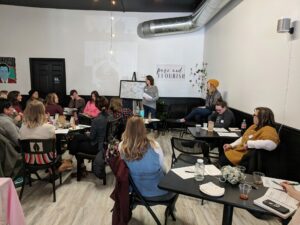 We widened our net to any woman who owns her own business, or aspires to. No matter the situation, there's something to gain from this event.
Networking with like-minded women.
Learning from established entrepreneurs and leaders about their own challenges and advice.
Engaging in workshops to collaborate and motivate.
After our first Flourishing Females event, as always, we wrote about it.
"We created this Panel + Workshop as a way to expand our reach, and include a wider point of view from our panelists in their respective industries. Without knowing what shape it would take, we started putting together a panel, planning a workshop, and connecting everything in between.
We were overwhelmed with the number of people who were willing to jump in and make this happen. It confirmed something we already knew about Bowling Green: everyone wants to see each other succeed."
Read the rest of this article here.
Join us at our second Flourishing Females Panel + Workshop to feel the empowerment first hand. Maybe you're starting a business and need a network. Maybe you have a business and feel alone in it. Maybe you have a great idea and you need the courage to put it out there.
No matter what, and no matter what you do, this event is for you.  
Don't forget to register!
https://mentcowork.com/wp-content/uploads/2019/05/roundtable-event.jpg
750
998
Hayley Kruth
https://mentcowork.com/wp-content/uploads/2019/05/ment_logo.png
Hayley Kruth
2019-05-28 11:00:46
2019-05-28 11:00:46
The Power of Empower-Ment