For the month of February, we are giving a different definition to the term love. One that is centered around loving what you do and having passion for your job. With this in mind, what better community partner for the month of February than Slow as Folk, a local business that has stuck to its simplistic, natural and colorful roots. 
The Artist: Sarah Gust
Freelancer, jewelry maker, painter, plant lover, Starbucks barista and establisher of 'Slow as Folk', artist Sarah Gust really can do it all! And now she is the head of a business that has established a community partnership with Bowling Green's first coworking company, right in the heart of downtown Bowling Green. 
A building with open areas, exposed brick, natural light and tons of wall space – we were basically calling her name! 
Sarah Gust discovered her love for art in college when she began to explore a niche that she never knew she had. Following her own path, she found Bowling Green about six years ago and established a career and business for herself. Gust realized that she wanted a clearer direction for her art and rebranded herself early last year, re-entering the art community with a fresh brand – Slow as Folk. 
It just clicked and it felt right. I realized that to create a sustainable business I needed to move at a pace that was comfortable for me – slow.
Gust also connected with the word 'folk' as that describes the type of artist that she is given her self-taught art background and varying practices. Gust believes in the power of focusing on herself throughout her art in order to allow her to create quality work that is not rushed. Gust creates everything from paintings, drawings, stickers and designs, to henna work and one of her newest specialties – earrings and jewelry. Gust works mainly as a freelancer taking part in pop-up shops, markets, workshops and sales through her website and Instagram. 
The Brand: Slow as Folk
Slow as Folk is centered around minimalism and simplicity. As an artist, Gust finds herself attracted to brightness as well as shapes found in nature. She says that she draws inspiration from people and things around her in everyday life. 
As our community partner for the month of February, Slow as Folk not only has the super cool privilege of receiving access to Ment's workspace and perks, but will also be displaying art in our office on the second floor for the entire month!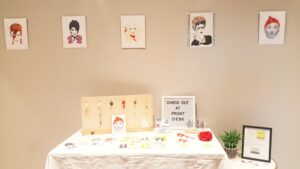 Slow as Folk art will be available for viewing and purchasing now until February 29 from 8-2 Monday through Friday at Ment. If you are downtown (and we know you will be), stop in to see some awesome pieces and maybe even meet the artist herself!  We are so excited to be sharing the love this month with Slow as Folk and to have our coworking space filled with a little more beauty. If Ment Cowork wasn't already an "inspired" place, we sure are now!
https://mentcowork.com/wp-content/uploads/2020/02/IMG_20200204_151732_218_1580851260011_001.jpg
1179
2047
Hannah Vanover
https://mentcowork.com/wp-content/uploads/2019/05/ment_logo.png
Hannah Vanover
2020-02-05 11:00:20
2020-02-05 11:49:25
Ment for Love, Ment for Art