If you love over-sized sweaters, fuzzy socks, salt lamps and have an obsession with blankets, then you are going to be all ears for this. Our theme for the month of February – "Hygge." 
Raise your hand if you've heard of this crazy Danish concept before. No? Me either. Well that is until I took an international public relations class last semester. I chose to study the country of Denmark because, well they are supposedly the happiest place and people in the world and need I say more? I kept coming across this concept so much that I just had to research it. Turns out it's not crazy at all and most of us are actually practicing it – it's actually pretty neat! 
HYGGE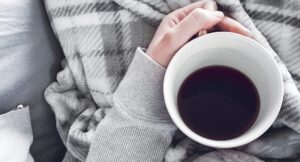 Originating in Denmark, Hygge is a term for the all encompassing feeling of comfort and well being. 
Synonyms:  Happiness, coziness, security, simplicity, reassurance 
"Hygge is about an atmosphere and an experience, rather than about things. It is about being with the people we love. A feeling of home." 
Enjoying the little things in life, practicing self care, being present in the moment and creating a feeling of contentment are all ways in which one can practice this concept. Sounds like something you're down for? We sure are! With all of our natural light, diffusers, lamps in every corner, (and don't forget the couches) we are all about this way of life. 
The Danes practice this concept as a way to combat the winter and rainy day blues. Sound familiar? I ask as I am writing from the comfort of my couch, pajamas, coffee in hand and blankets in my lap on this gloomy February day. 
And now, with our newest community partner Slow as Folk, we have beautiful artwork on display all month long to help tie this whole beautiful and comfortable lifestyle practice together. Slow as Folk artist Sarah Gust is all about a simple lifestyle and incorporating comfort items into her daily routine as well as her art. 
"I want to be comfortable and I want my customers to be comfortable as well."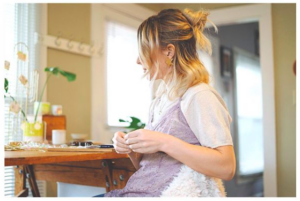 We can relate to this on a spiritual level  because if you don't have comfort, how will you be satisfied with your work, life, etc.? Our members deserve to have the space where they can work in an atmosphere that works for them – whatever that may be. With this being said, we just had to jump on board with this concept for our theme of the month. 
Ment Cowork will be here all month long helping you to bring a little Hygge into your life.
https://mentcowork.com/wp-content/uploads/2020/02/stella-rose-nYFQhSq7Zjw-unsplash-scaled.jpg
1920
2560
Hannah Vanover
https://mentcowork.com/wp-content/uploads/2019/05/ment_logo.png
Hannah Vanover
2020-02-06 12:29:54
2020-02-06 12:29:54
Embracing the "Hygge" Lifestyle