Written by guest writer and Ment member, Nolan Bramschreiber: Hello! My name is Nolan and I'm a husband, student of Organizational Behavior, Outcome & Planning Specialist with interCare and a mountain bike coinsure!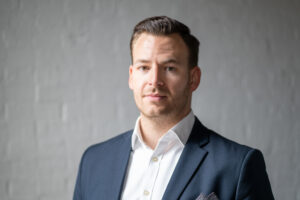 Conflict exists whether it is acknowledged or not. If placed on a spectrum, conflict would range widely in degree.  Some conflict could be categorized as surface level and easy to resolve, while other found to be deeply imbedded and spanning generations without full resolution.  If conflict is somehow ominously present, touching all relationships and interactions at some point and to some certain degree, why does it seem so difficult to navigate? Wouldn't continual exposure positively increase one's ability to engage conflict effectively? It is imperative we understand what creates conflict and prevents us from engaging it in a productive fashion. 
Building an Understanding
In order to understand how one might engage conflict productively, we must first understand what brings it about. Conflict is an interaction that can provide solid ground to build upon. Instead of vilifying views, opinions or differences, its best to seek clarification and understanding. This process referrers to differentiation. It is absolutely imperative for those engaging in conflict to spend significant time understanding differences between each other if their hope is to move away and out of the differentiation stage. Without all constituents embracing and understanding present differences, differentiation will move into integration with one foot still in the differentiation stage; forcing parties to start over in the future.
Acting on an Understanding.  
Understanding and legitimizing difference in perspective is not enough to solve a problem in conflict.  While an in-depth understanding is the foundation to problem solving, the integration stage is where parties explore and implement resolutions based on common ground. Integration can be marked by "standoffs" and "slings and arrows", but if parties can endure the pain of furthering those processes forward, the diversity of thought can lead to actual solutions between parties. In practical application and to effectively handle conflict, understanding of conflict management approaches need to be addressed throughout all management levels, rather than strictly through Human Resources or a legal office. In the application of understanding differences and moving conflict management forward, parties need to understand what scenerios could arise to derail progress.  
It's imperative the field based application be centered and focused on the understanding of differentiation, integration and aspects that disrupt the effectiveness of the linear model. Avoidance and escalation are threats in moving conflict management forward. The mere appearance of either escalation or avoidance do not presume ineffectiveness, but if gone unregulated, could derail the conflicts journey to problem solving. 
Applying my Understanding.  
In encountering conflict with loved ones, colleagues and friends, I have often found myself in an uncomfortable position. In order to mitigate potential conflict, my default position would be to heed the opinions or perspectives of whomever is speaking, and not state my opposing position.  While this behavior has evolved over time with growing confidence in independent perspectives and perceptions, I feel a tension to fall back into this uncomfortable position of forfeiting my difference by not advocating for or engaging it. This behavior is often perpetuated by failed attempts to voice my developing opinion.  Now, with the understand of how differentiation and integration works, I can confidently approach conflict with a genuine curiosity about why other perspectives deviates from mine. This acknowledgment provides a rich and robust opportunity to expand my horizon beyond norms applicable to me. If harnessed, I believe we can all have a better chance at conflict engagement. 
https://mentcowork.com/wp-content/uploads/2019/07/nolan-blog-.jpg
4016
6016
Ment Intern
https://mentcowork.com/wp-content/uploads/2019/05/ment_logo.png
Ment Intern
2019-07-25 12:30:28
2019-07-25 12:30:28
Conflict Engagement