At Ment, we are about more than just "talking the talk" so for the rest of this month, we are going to show you how this whole 3:59 thing can actually have an impact. Hearing people's goals and motivation to be better are awesome, but sometimes we think to ourselves, "That's great, but does it really work?"
We would like to introduce you to Shawn Rhodes, an ordinary guy who has done extraordinary things with the help of Dan Klein and My 3:59. Similar to Dan Klein, Shawn received a cancer diagnosis in 1999 that changed his life. Years later, Rhodes recovered and realized that life is much too short to waste time.  
After reading Klein's book in 2017, Rhodes found that it resonated with him and inspired him to go after those things that seemed impossible to him. He decided to move toward those goals full force – literally, when he decided to enter the half-Ironman, a worldwide triathlon that takes place yearly in the U.S. From then, Rhodes chose to take on the full Ironman in Louisville in 2018 with Klein by his side and later, participated in multiple other races and sporting events. Rhodes has continued setting 3:59s for himself every year and aims to participate in the RAIN, a 160-mile bike ride across Indiana later this year.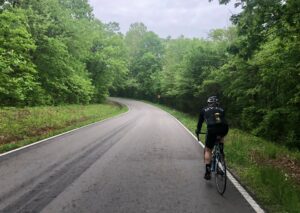 Rhodes said that this goal not only helped him to work on his physical health, but also his mental and spiritual health as it allowed him time to clear his mind and focus on those aspects of his life.
Rhodes spoke on the importance of the SMART method used in the My 3:59 movement and how it holds you accountable and allows you to put things into perspective. He also discussed the method of Klein using social media to interact with others taking part in the Together Challenge, a commitment made by a community of people participating in the movement, and loves to be a part of witnessing the support from one another.
"It's neat to see where everyone is at with their own personal challenges," Rhodes said.
Rhodes first met Klein in 2002 when they were both Olympic torch bearers during the relay that took place through Bowling Green. Years later, Klein and Rhodes have become close friends and even participated in their My 3:59s together.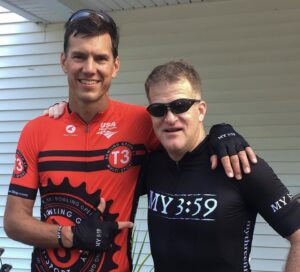 He expressed how powerful the experience has been for him and stated that we underwent what he would call an "epiphany."
"Here I am doing all of these things that used to be impossible to me…it has been almost as life changing as my cancer diagnosis." 
There are so many others out there with stories like Rhodes and with the right help of My 3:59, our community has seen a large impact. It was a no brainer to partner with My 3:59 and to take part in challenging ourselves. Inspiration is truly growing in our community and beyond as we all take the first steps toward moving our own stones.
Rhodes referred to one of Klein's quotes stating, "If you think you can or you think you can't, your right."
A quote that we may just have to start looking more at ourselves here at Ment. We have come such a long way from seeing the potential for Bowling Green's first ever coworking space, to making it a reality – it was a big jump. With the help of Klein and his movement, this will be our year to go above and beyond as we attempt to do bigger and better things moving forward each day. Just as Klein's story resonated with Rhodes, we hope that we can one day leave our mark on Bowling Green.
https://mentcowork.com/wp-content/uploads/2020/01/MG_9685-2-scaled.jpg
1707
2560
Hannah Vanover
https://mentcowork.com/wp-content/uploads/2019/05/ment_logo.png
Hannah Vanover
2020-01-23 13:46:30
2020-01-23 13:46:30
A Life Changing Move{ment}