Written by guest writer Lindsey DeVore: Hi, I'm Lindsey-a small business owner, former educator and a blessed mom to a little boy. 
Summer break (formerly known as, summer "vacation") used to conjure up images of long days by the pool, unencumbered free time and endless possibilities for spontaneous get-togethers and adventures with friends. Fast forward to present day as a work-at-home small business owner (with a busy toddler) and the picture looks quite different, to say the least. My goal is to spend these months giving my son the best summer experience possible. Meanwhile, clients are calling, the email box is filling up, and those day-to-day tasks of running and growing a business are not going away.
How can one manage working from home while surviving (and more importantly, enjoying) summer break with their children? I'm sharing my top 4 rules in my life to embrace summer break as a work-at-home mom.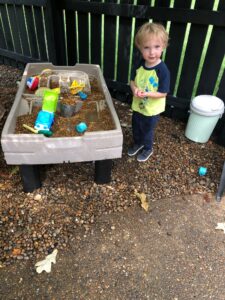 1) Change the narrative.
Summertime presents a challenge for all parents regardless of their schedule and level of work flexibility. Logistics and childcare can be tricky to figure out, however the first challenge I realized I needed to overcome was the story I was telling myself. The narrative that I'm not doing enough for the business, as a parent and the idea that I should be able to seamlessly balance it all. I now believe that balance doesn't really exist and the expectation that we can achieve it if we only "try harder," is a self-defeating pursuit. Let go of the notion of balance and find peace in the acceptance of what your current circumstances are, also knowing that they will continue to evolve and change. The truth is while no parent can "do it all" during the summer months, we can do a lot, and by doing our best to take care of our business, ourselves and our family-this is enough, this is more than enough.
2) Lower expectations.
We all have certain expectations for how we conduct our work and home responsibilities, I've come to the realization that my standards need to be lowered during the summer months. This is the time to let things go of non-essentials and focus my high expectations to what work tasks must be completed and to the personal priorities that truly matter. Some things will need to be put away and can be picked back up once school starts back; they will survive and will be there waiting. Some things are ripe for the picking during the summer months and I want to take advantage of them-like backyard barbeques, time with extended family, and creating homemade meals with fresh corn on the cob and watermelon. Decide what you want to focus on during summer break and then let the rest go.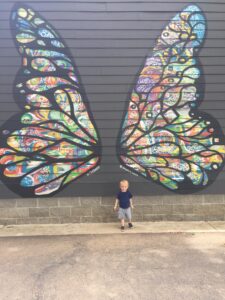 3) Get a work plan in place.
When it comes to getting my work tasks done, summer break is the time to channel my most organized, "Type-A" self. I try to be methodical in setting time and physical boundaries around work priorities and sticking to them. It's a great idea to anticipate when you may have 15, 20, 30 minutes of time to work and have a plan for how to best utilize it- this will lessen feelings of overwhelm and help you get right to knocking to-do's off your list. Schedule tougher assignments that require quiet and more attention for when you know you'll have the house to yourself. Consider scheduling a chunk of time each week to work outside of the home at your favorite coffeeshop or coworking space, especially when you want to work on creative and new projects. Time out of the house will also give you a chance to get out of your yoga pants and mingle/converse with other adults (sounds like a vacation to me!)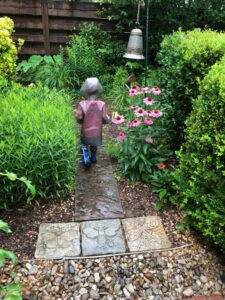 4) Show yourself grace and kindness.
This is my favorite rule and the one I can struggle with the most. As we're stretched for time focusing on managing our work and family, its easy to neglect ourselves. We need to show ourselves extra kindness during this crazy season in whatever ways make sense to you. Examples of self-kindness for me may include: unapologetically asking for help, outsourcing household tasks (cleaning, mowing, laundry), saying no to requests and invitations, and having fun whenever I can (Slip and Slide, anyone?) Remind yourself that your health and happiness are a good and essential use of your time.
Summer breaks may be different now that children and work responsibilities fill up the long days, but it can be pleasurable and memorable, nonetheless. I'm choosing to embrace this season of the year (and life) for what it is- tough but magical, long but also fast, and days filled with butterflies and mud pies and I honestly wouldn't have it any other way.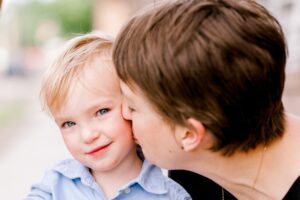 https://mentcowork.com/wp-content/uploads/2019/07/devore-and-kid.jpg
2876
4314
Ment Intern
https://mentcowork.com/wp-content/uploads/2019/05/ment_logo.png
Ment Intern
2019-07-16 10:28:36
2019-07-16 10:28:47
Butterflies and Mud Pies: My 4 Rules for Embracing Summer Break as a Work-at-Home Mom